Ferry and cargo vessel in fatal collision on the River Nile
Comments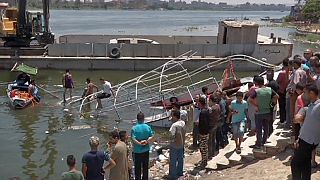 As many as 21 people, including two children, have been killed after a cargo boat collided with a ferry on the River Nile in Egypt.
"Party boat" crash kills at least 15 people on the Nile in Egypt http://t.co/MntSusU8TKpic.twitter.com/gnidU5d8OJ

— BBC News (World) (@BBCWorld) July 23, 2015
Five were plucked from the water and authorities are still searching for six individuals believed missing.
Police have arrested the captain of the cargo vessel and his second in command.
Those on board the ferry were attending an engagement party.