California wildfire burns 1,000 acres
Comments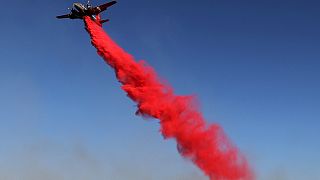 Nearly 300 firefighters are continuing to battle a fast-moving wildfire in Napa County, California, on Wednesday (July 22).
According to local reports, the fire, which has already burned 1,000 acres, was sparked by a vehicle crash on a nearby highway.
Officials are urging visitors and hikers of a nearby popular hiking and campground area to stay away.
At least three hikers had to be rescued from a Cold Canyon, just south of Lake Berryessa.
California is suffering its fourth year of a devastating drought.