Angry French farmers compare themselves to Greece
Comments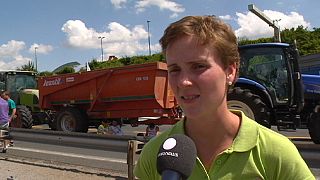 'Le Foll, your Greece awaits you' read one protest banner in which French farmers appeared to compare the crisis on the hands of Agriculture Minister Stephane Le Foll to that faced by Athens.
Around 800 turned out in Lyon to vent their anger at apparent discrepancies between what they are paid and the amount supermarkets and other retailers charge for their products.
#lyon confluence/ les agriculteurs sur l'A6 attendent xavier beulin le président de la FNSEA pic.twitter.com/3T4UrK31hx

— L. Alexandrowicz (@_laurencealex) July 23, 2015
Dairy farmer Aline Cabaussel was among those protesting:
"Let me give you some facts and figures. Milk production costs, on average, 325 euros per thousand litres. At the moment, we sell our milk to the dairy industry at around 300 euros, so around 30 cents per litre. But you the public buy it at 56 cents per litre. What happens to the difference?"
During the demonstration, bottles of milk were thrown on the road.
#france Lyon les agriculteurs lancent des bouteilles de lait sur la chaussée pic.twitter.com/P1lfd3ox3Y

— L. Alexandrowicz (@_laurencealex) July 23, 2015
Our correspondent Laurence Alexandrowicz told us a meeting of the whole dairy sector is scheduled for July 24. There, prices are expected to be discussed and further action will be taken if what is announced does not match farmers' expectations.
Recent polls suggest a growing number of farmers are leaning towards the far right-wing National Front Party.
Traditionally right-wing, they have become increasingly annoyed with the Socialist government's policies.