The students who are changing children's lives with 3D-printed limbs
Comments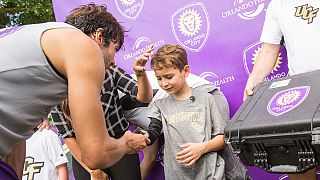 Six-year-old Brazilian boy Paulo Costa Boa Nova was born with a genetic defect that left him without part of his right arm.
But now, thanks to a group of Florida students working for free in their spare time, Paulo has a 3D-printed bionic arm that will provide him with life opportunities he would have otherwise been denied.
The new limb was presented to Paulo in Orlando by players from the MLS team Orlando City Soccer Club, including captain and Brazil star Kaka.
It is the latest in a series of projects led by volunteer students at the University of Central Florida. They have set up a non-profit organisation called Limbitless Solutions, and work between classes and at weekends to produce 3D-printed limbs, specially tailored to the children who need them. Paulo's arm for example was themed around two things he is passionate about: Brazilian football team Fluminense and Iron Man.
MLS</a> <a href="https://twitter.com/OrlandoCitySC">OrlandoCitySC thank you for helping change lives. #3dhopepic.twitter.com/dMsN2rcZIi

— Limbitless Solutions (@Limbitless3D) July 19, 2015
The students have been helped along by one of the leading additive manufacturing companies, Stratasys, who donated a new 3D printer to the project earlier this year.
It all started last summer when mechanical engineering doctoral student Albert Manero heard about a Florida 6-year-old in need of a prosthetic arm. He and a group of classmates spent the next eight weeks building the limb at a cost of 350$. The team have since produced six arms in the US, while Paulo is the first international recipient.
There are four more limbs in production but, inundated with emails asking for help from around the world, there are hundreds of children on a waiting list. Limbitless search out partners for each limb they provide for free, to make each delivery a special moment for the child in question. In the case of Paulo, they teamed up with Orlando City SC, as well various local businesses who enabled his trip from Brazil.
Additive manufacturing is being increasingly employed in the healthcare sector to provide prosthetics, replacements for bone matter and even organs. 3D printing is also improving the tools that are available to surgeons and other healthcare workers.
It is thought that over the next decade the process will be used extensively in heart surgery, knee, shoulder and hip replacements, cranial implants and spinal procedures, to name but a few 3D printing health applications.