Italy condemned for violating gay rights over marriage
Comments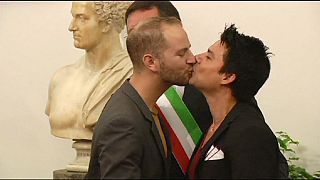 The European Court of Human Rights has condemned Italy for failing to provide adequate legal protection for same-sex couples.
Italy is the only major western European country not to recognise either civil partnerships or gay marriage.
The ruling comes after three gay couples took Italy to the Strasbourg-based court complaining they were being discriminated against because of their sexual orientation.
A court statement said :
"The Court has considered that the legal protection currently available in Italy to same-sex couples…. not only failed to provide for the core needs relevant to a couple in a stable committed relationship, but it was also not sufficiently reliable."
Italian Prime MInister Matteo Renzi has said his government will introduce a law on civil unions by the end of the year.