Mexico taxi drivers clash over 'pirate' operators
Comments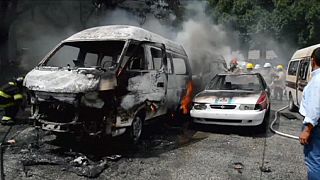 At least nine people were hurt and dozens of vehicles were burnt on Monday after members of two rival taxi driver unions clashed in the southern Mexican city of Chilpancingo.
The clashes occurred after members of the Coalition of Transportation Servers of the State of Guerrero (COSTEG), who are linked to the ruling Institutional Revolutionary Party, held a march against taxi drivers who operate vehicles without proper permits, known locally as "pirates".
The COSTEG members accuse a rival union, the State Coordinator of Independent Transporters of Guerrero (CETIG) of harbouring 'pirate' drivers.
CETIG members, who have links with radical leftist groupings in Mexico, had been camping in the main square of Chilpancingo since October, demanding that the state government provide their members with more permits.
COSTEG's march turned violent when they clashed with the CETIG camp, running into the main square holding sticks and throwing rocks, tearing down tents, setting cars on fire and binding supposed 'pirate' drivers by their feet and holding them face down on the ground.
CETIG members could be seen bandaged and bloodied after the clashes.