Is Saudi Arabia outlawing rainbows for being gay?
Comments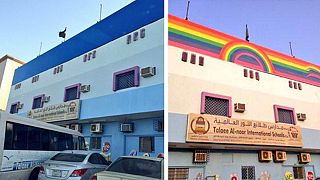 A school in Saudi Arabia has been fined and one of its administrators jailed after a rainbow was painted on it.
Enforcers of the country's strict Sharia code announced the measure on Twitter, claiming the rainbow was a "symbol of homosexuality."
هيئة الأمر بالمعروف والبلدية والأمارة تزيل الشعار وتغرم "مدرسة أجنبية"في الرياض بمبلغ١٠٠الف بعد وضعها شعار المثليين pic.twitter.com/sLTldRQ8yt

— قناة المجتمع السعودي (@ksa12300) July 17, 2015
The edict comes from the Twitter account of the Saudi Society Channel, a branch of Saudi Arabia's Committee for the Promotion of Virtue and the Prevention of Vice, a group seen as the Emirate's 'religious police'. Among other practices that it has banned are Valentine's Day and and smoking for women.
The rainbow has since been removed from school and painted over in a much less ostentatious navy blue.
The Talee al-Noor International School in Riyadh was fined 100,000 Riyals (around 25,000 euros) and one of its administrators sent to prison awaiting an investigation.
تم احالة المسؤول في المدرسة الذي وضع الشعار إلى السجن تمهيداً لإحالته إلى هيئة التحقيق والأدعاء العام

— قناة المجتمع السعودي (@ksa12300) July 17, 2015
Homosexuality is a criminal offence in Saudi Arabia and is punishable by flogging and prison.