French ferry workers' tyre-fire protest blocks Eurotunnel in Calais
Comments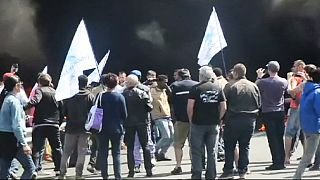 Eurotunnel services had returned to normal on Tuesday (July 21) after protesting French ferry workers blocked the entrance and set fire to tyres at a terminal in Calais linking France to the UK.
The employees were demonstrating against expect job cuts linked to Eurotunnel's sale of boats from its MyFerryLink service.
Tueday's action is the latest in a series of protests. Last month, workers brought traffic inside the tunnel to a standstill for an entire day and disrupted seabound travel from Calais.
The waiting time pre check-in from Calais is now reduced to 30 min. Thank you for your patience and understanding ^SL

— Eurotunnel LeShuttle (@LeShuttle) July 21, 2015