Formula One bids farewell to Jules Bianchi at funeral
Comments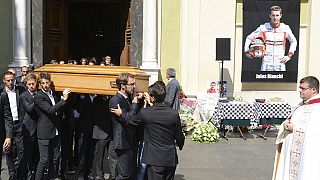 The funeral of French formula one driver Jules Bianchi took place on Tuesday in his hometown of Nice.
World champion Lewis Hamilton was among a host of F1 colleagues to join Bianchi's friends and family in paying their final respects to the 25-year-old who died on Friday from head injuries sustained in a crash at the 2014 Japanese Grand Prix.
Nicolas Todt – son of FIA president Jean and Bianchi's manager said: "It's true that F1 is a complicated job, where often you can lose touch with reality. He always knew how to remain humble, kind with everybody and that made him different from others."
While former colleague Jean-Éric Vergne added: "He was an extraordinary person, very beautiful inside and outside. Today he's in heaven with all the big F1 names, and he will remain forever a champions in our hearts".
Hundreds of fans looked on as Sebastian Vettel, Romain Grosjean, Vergne, Felipe Massa and Pastor Maldonado helped carry the coffin after the service.
Bianchi becomes the first driver since Brazilian Ayrton Senna in 1994 to die from injuries sustained in a grand prix.
His No. 17 is being retired from Formula One – and further tributes are expected at this weekend's Hungarian Grand Prix.