2,000-year-old dugout canoe recovered from Slovenia river
Comments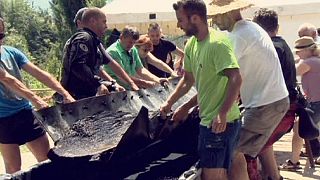 Archeologists have recovered the second half of a 2,000-year-old dugout canoe from the Ljubljanica River in the Slovenian capital Ljubljana.
The other parts of the boat were pulled out of the river two weeks ago.
The dugout will be prepared and restored, after which it will be displayed in the newly established adventure exhibition grounds in Vrhnika.
The dugout weighs two tons and is sixteen meters long.
"We found the oldest bicycle in Vrhnika and we found Neanderthal arrows," said Vrhnika mayor Stojan Jakin. "Now we have this dugout, which is among the biggest in the world."
The boat is thought to have been built between 50 BC and AD 70. Experts will be able to establish the age of the find more specifically upon further examination.