Russia officials foil bid to smuggle half a ton cheese from EU
Comments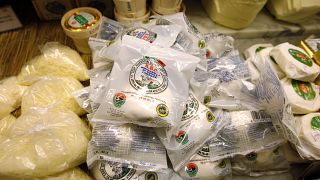 A man who tried to enter Russia with almost half a ton of cheese concealed in his car was stopped at the border by custom officials.
The driver alleged the 460 kilograms of cheese was for personal consumption but officials said: "He knew about the rules but did not respect them, hoping that customs officers would not check his vehicle."
The man had driven from Poland to Kaliningrad with the bounty hidden in the boot and back seat of the car.
Russia has banned the importation of dairy products, produce and meats from the European Union and other western countries. The restriction was in retaliation to EU-imposed sanctions over the Ukraine Crisis.
Since the ban, citizens are allowed to cross the border with what authorities deem is enough for personal consumption. But Russians have been missing their quota of cheese. The New York Times reported one women who described on her Facebook page the joys of shopping in a grocery store in Western Europe.
"It's not seeing the historic churches and museums that has made me so emotional — it's seeing cheese at the supermarket. My little Gorgonzola. My little mozzarella. My little Gruyère, chèvre and Brie. I held them all in my arms — I didn't even want to share them with the shopping cart," said Inna Denisova.
The ban has seen a burgeoning black market surrounding the purchase of French and Italian cheese in local corner stores.
Border officials seized more than 600 tons of EU meat that had been hidden under packages of gum and marmalade last October.