Second Judo Grand Slam underway in Siberia
Comments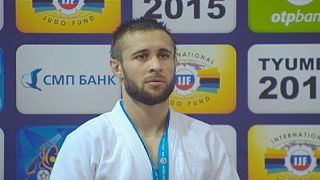 The second International Judo Federation Grand Slam of the season is underway in the Siberian city of Tyumen. The two-day event is hosting 312 judoka from 53 countries.
In the men's under 73kg final, Russia's Uali Kurzhev defeated Minsk European Open winner Guillame Chaine. The Frenchman was taking part in his first World Judo final but his efforts were not enough with Kurzhev winning by a yuko score.
The bronze medal went to Igor Wandtke from Germany.
Former World Judo Masters silver medallist Tomofumi Takajo from Japan saw off Kazakhstan's Gabit Yessimbetov in the under 66kg final with the help of a
waza-ari and accumulated shido penalties by world number 207,Yessimbetov.
All Japan Championships winner and reigning Tyumen Grand Slam champion, Shinji Kido successfully defended his 2014 gold medal by beating European bronze medallist Ashley McKenzie from Great Britain in the under 60kg category.
Kido submitted the British judoka to a shime-waza after leading with a yuko.
Meanwhile, in the women's event,
Spain's Julia Figueroa won her first IJF gold medal as she beat Russia's Kristina Rumyantseva in the under 48kg final.
Portugal's Joana Ramos celebrated winning her first Grand Slam gold medal aged 33 in the under 52kg event. She saw off the Asian Championship winner Yingnan Ma from China.
In the under 57kg final, Tsukasa Yoshida defeated World Judo Masters Judo Masters bronze medallist Corina Caprioriu. Nineteen-year-old Yoshida initially attacked with a kosoto-gari and drove the Romanian over towards the edge of the tatami to take the lead. After four minutes that was enough to win her first Grand Slam title.
And finally Munkhzaya Tsedevsuren won an all Mongolian under 63 kg final against Tserennadmid Tsendayush. Both fighters received penalties with a total of five being handed out in a scrappy final.