Drivers flee as wildfire engulfs southern California highway
Comments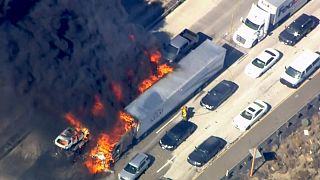 In America a brush fire destroyed vehicles and homes and brought traffic to a halt as it engulfed a major road in southern California.
Some drivers ran for their lives in the Cajon Pass in San Bernadino County near L.A. as smoke took hold on the main Interstate 15 highway to Las Vegas.
About 1,000 firefighters were deployed as the wildfire remained out of control into the night.