Chattanooga shooting death toll rises to five
Comments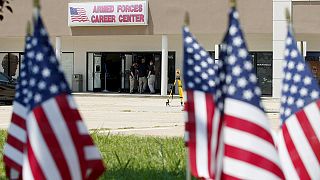 A US sailor has died from wounds sustained in a shooting rampage on military buildings in Chattanooga, Tennessee on Thursday. The death of logistics specialist Randall Smith now brings the number of servicemen killed to five.
US investigations are focusing on the suspected gunman Mohammad Youssuf Abdulazeez's travels to the Middle East. While the FBI is investigating it as an act of domestic terrorism, police officers said it was premature to speculate on the motive.
Reuters news agency has discovered that hours before the gunman carried out the attack, he texted his close friend a link to an Islamic verse. It included the line "Whosoever shows enmity to a friend of Mine, then I have declared war against him."
With the rising death toll, came the grim statistic that more Marines were killed in Chattanooga than in Afghanistan in the last year.
A fact that will hang over the town as it tries to come to terms with the tragedy.
Today in Chattanooga. The memorial at the strip mall where the gunman opened fire has grown significantly. ABC</a> <a href="http://t.co/8xe2diYHQ3">pic.twitter.com/8xe2diYHQ3</a></p>&mdash; Stephanie Ramos (sramosABC) July 18, 2015
Mellow Mushroom Pizza Bakers honor the #Chattanooga Five pic.twitter.com/7mZfTrbL7d

— Katie Pavlich (@KatiePavlich) July 18, 2015