Huge wildfire breaks out east of Athens
Comments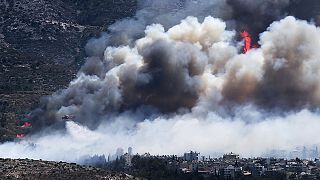 A huge blaze has spread rapidly to the east of Athens. The fire on Mount Hymettus, which lies about 15km to the east of the Greek capital, started at around 12pm local time grew massively within the space of half an hour. The fire has now reached houses in the southern suburb of Kareas.
A second fire in Lakonia on the tip of the southern Peloponnese broke out earlier this morning and two villages were evacuated, diverting vital services.
18 fire trucks, two helicopters and 45 firefighters are now operating in Kareas.
Prime Minister Alexis Tsipras is heading to the affected area near Athens.
So far there are no reports of casualties or injuries. The fear now is if the fire changes direction. Current weather conditions: 33degrees C, Wind N at 29km/h.
Summer wildfires are not unusual in the country. In 2009 a series of massive blazes broke out in Grammatiko, northeast of Athens, spreading quickly towards the suburbs. The fires burned for 4 days before being extinguished, taking with them 60 homes, damaging 150 more. While in 2007, 84 people died and thousands of hectares of forest were destroyed in the Peloponnese and Euboea.
Fire on mount Hymettus, #Athens#Greece pic.twitter.com/V19m28ELtJ

— Valia Dioti (@Valia_Dioti) July 17, 2015