US drone attack in Somalia takes out Al-Shabaab leaders
Comments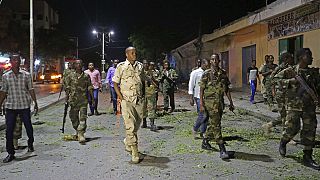 A US drone attack has killed top Al-Shabaab commanders responsible for the planning and execution of 147 Kenyan university students in April.
The attack comes only six days before the US president Barack Obama's visit to the region.
President Obama, the first sitting US President to visit Kenya, is expected to stay in Nairobi for three days.
The drones attacked the Baardheere and Buur Hajje regions in Somali in the small hours of Wednesday where two top Al-Shabaab commanders identified as Jama Deere and Ismael Jamhad were killed.
In the same night another attack was launched by Kenyan military troops in Somalia where 51 terrorists were killed.
According to the Kenya Defense Forces, the attack took place about 40km west of Bardhere in the Gedo region.
Kenya's military officials said they destroyed a dozen pickup trucks belonging to Al Shabaab, which were carrying explosives.
The military spokesman Colonel David Obonyo said the strike was a major victory for Kenya who have been fighting with the terrorists since 2011.
"Jungal was one of the main Al-Shabaab planning and operations bases in Gedo region which has seen an increase in militia activities recently. This is a setback for the terrorists," he said.
US counter-terrorism forces have intensified their presence in Somalia ahead of President Obama's visit in the region on Friday next week.
President Obama is expected to attend a global entrepreneurs summit in Nairobi before heading to Ethiopia.
US drones have also killed Adan Garar, an Al-Shabaab leader who is believed to be the mastermind of the 2013 Westgate mall attack in Nairobi in which 70 people including several foreigners were killed.
By Samwel Born Maina
Kenya