Eid: the Muslim world prepares for the end of Ramadan
Comments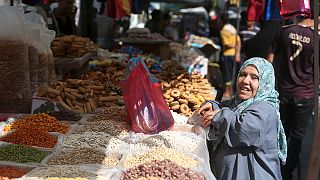 Last minute preparations are underway across the Muslim world, to mark the end of Ramadan and the beginning of the three-day festival of Eid-al-Fitr.
The atmosphere during Ramadan this year was excellent
Top 10 #Eid attractions for #Arab visitors to #Londonhttp://t.co/qdiZI0efSipic.twitter.com/gkoNrYZNSm

— Al Arabiya English (@AlArabiya_Eng) 15 Juillet 2015
In Jerusalem, Gaza and the West Bank nuts, dried fruit and sweets are piled up on street stalls to tempt shoppers.
In the West Bank city of Hebron, families bustle around preparing for the festivities. In Gaza, the markets are also busy but the atmosphere is very different from a year ago. "People were stressed out last year", said one man. "The war in Gaza affected us badly. No one was happy, neither the old nor the young. This Eid, everyone is happy."
"I'm selling balloons to help my father earn money so we can buy new clothes for Eid" Daif, 9, from #Gazapic.twitter.com/TLSnKMI1ax

—

UNICEF

(@UNICEF) 10 Juillet 2015
Ramadan is all about fasting and so Eid is all about food. But reflection and thanks are also important – and have added impact this year in Gaza.
"The atmosphere during Ramadan this year was excellent," said another man."The economic crisis is hard going and the economic situation is bad because of the checkpoints, but its still better than last year. Last year was very, very bad."
The holiday is expected to begin either on Friday July the 17th or Saturday the 18th.