Obama seeks to convince Congress of merits of historic Iran nuclear deal
Comments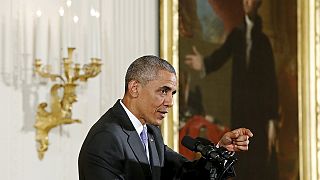 US President Barack Obama has sought to convince Congress of the merits of the Iran nuclear deal.
The most serious threat – that of Iran obtaining a nuclear weapon – has been prevented, he told a press conference in Washington.
"With this deal," he stated, "we cut off every single one of Iran's pathways to a nuclear weapons programme."
"This nuclear deal meets the national security interests of the United States and our allies," he continued. "It prevents the most serious threat of Iran obtaining a nuclear weapon, which would only make the other problems that Iran may cause even worse. That's why this deal makes our country and the world safer and more secure."
While seen as a political triumph, the deal is also considered Obama's biggest foreign policy gamble since he was initially elected president in 2009.