N.Ireland : Eight police officers are inured in parade violence
Comments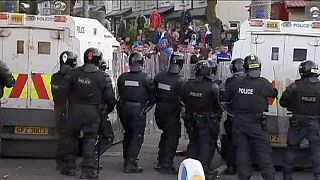 There's been violence at a Orange Order parade in Northern Ireland.
Eight police officers where injured when they were pelted with bottles and beer cans.
The Protestant loyalists reacted angrily when a cordon was erected to stop the march from passing a Catholic estate.
Thousands of Pro-British Protestants hold marches every year on July 12 in the British- ruled province to mark the 1690 victory by King William of Orange that sealed Protestant domination in a tradition Catholics view as provocative.
Three decades of fighting between mostly Protestant loyalists who want Northern Ireland to remain part of the United Kingdom and Irish nationalists, mainly Catholics, who want it to be part of a united Ireland, led to the deaths of over 3,000 people before a 1998 peace deal.