Iran nuclear deal: a stunning, historic mistake says Netanyahu
Comments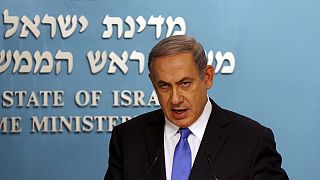 "A stunning, historic mistake."
The world is a much more dangerous place today than it was yesterday
This is how the Israeli Prime Minister sees the historic agreement on Iran's nuclear programme. For Benjamin Netanyahu, this not so much a step forward as a step back:
"The world is a much more dangerous place today than it was yesterday. In fact the deal gives Iran every incentive not to change. in the coming decade the deal will reward Iran and the terrorist regime in Tehran , with hundreds of billions of dollars. This cash bonanza will fuel iran's terrorism worldwide, its aggression in the region and its efforts to destroy Israel which are ongoing."
La planète nucléaire par AFPgraphics</a> <a href="https://twitter.com/hashtag/AFP?src=hash">#AFP</a> <a href="http://t.co/USaVPS23YB">pic.twitter.com/USaVPS23YB</a></p>&mdash; Agence France-Presse (afpfr) 14 Juillet 2015
Netanyahu's negative mood was reflected on the streets of Jerusalem:"I'm not convinced that the agreement, as I understand it, will actually stop Iran from getting a bomb. But you have to try." said one woman. "Now Iran is going to get all this money and they are going to fund even more terrorism. It has just made everything so bad and it's going to cause the deaths of so many more people and it's just horrible." said another.
There has also been opposition to the accord from conservatives both in Iran and the United States.