France pays tribute to its elite armed assault units on Bastille Day in Paris
Comments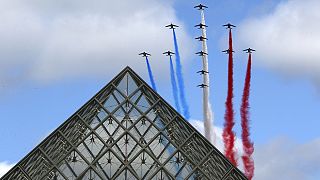 France paid tribute to its elite armed assault units as they took part in the annual military parade on Bastille Day for the first time. Many wore helmets and sunglasses to hide their identity as they marched down the Champs-Elysees in Paris.
"This march," declared Prime Minister Mauel Valls, "more than ever is the glue which holds the nation together."
It was the elite armed units which intervened to end sieges after January's deadly attacks by militant Islamist in Paris when 20 people including three of the attackers were killed
Fighter jets trailing smoke in the colours of the national flag flew over the Arc d'Triomphe
French President Francois Hollande said the army forces would stick to maximum security. "We are mobilized. And I don't want the French to have any doubts about the measures that have been deployed. Currently there are 30,000 police and military officers deployed to ensure the security of sites – 30,000 and it will last," he said.
The guest of honour was Mexico's President Enrique Pena Nieto with the first lady Angelica Rivera.
The annual holiday celebrates the storming of the Bastille prison, which marked the start of the 1789 French Revolution.