US presidential race adds Scott Walker to crowded GOP ring
Comments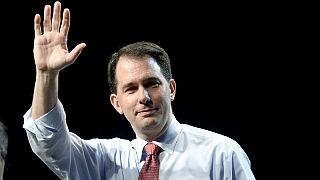 Scott Walker has announced his bid for the United States Republican presidential nomination.
The two-term governor of Wisconsin is the clear favourite of many more conservative voters, but far less with the moderates who account for the majority of the party, according to polls.
More than a dozen Republicans and a handful of Democrats have announced they are running for their party's 2016 presidential nomination.
Walker supporters said they admire his taking on public-sector labour unions.
On the other hand, he is a Washington outsider, and several strategists have voiced doubts over how the 47-year-old son of a minister has handled questions on evolution, religion and foreign policy.