Greece clinches deal with eurogroup after marathon talks
Comments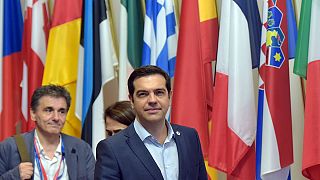 Greece has secured debt restructuring and medium-term financing. The deal with its creditors after seventeen hours of marathon talks with eurozone leaders will allow the country to stay in the eurozone.
Greece will now have to rush legislation through parliament this week to to begin talks on a three-year loan.
"There are strict conditions to be met. The approval of several national parliaments, including the Greek parliament, is now needed for negotiations on an ESM programme to formally begin," explained Donald Tusk,
President of the European Council. "Nevertheless, the decision gives Greece a chance to get back on track with the support of European partners.
"Since the beginning of what's been described as the "Greek case," the [European]Commission never stopped to insist on the fact that we wouldn't accept any kind of "Grexit." There won't be any "Grexit," Jean Claude Junker, President of the European Commission, told reporters at a press conference after the talks.
The eurogroup president gave details of a privatisation fund of 50 billion euros to pay Greece's debt.
"..and part of that agreement is that a fund will be set up which will … assets will be transferred to this fund, the fund will monetize these assets, either by privatizing or by running the assests and trying to make Jeroen Dijsselbloem. "That money will be used to deal with debt and to reduce debt. Also it will be used for repayment and recapitalization of banks."
Analysts say Greece prime minister Alexis Tsipras has abandoned hope of the end to austerity he had promised Greeks when his Syriza party was elected in January.
Follow the live updates on the situation
{{scribblelive}}}