EU leaders react to Greek agreement struck at Brussels summit
Comments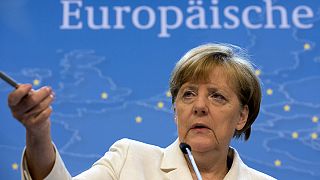 Greek Prime Minister Alexis Tsipras has yet to face his government and people after an agreement was reached at the Brussels summit. But for the cameras he talked in positive tones.
"We have had a tough battle for six months now and we fought until the end for the best deal, an agreement that will allow the country to stand on its feet. We faced tough decisions. We took tough decisions to prevent the realisation of extreme demands from the most conservative circles in Europe," he told reporters.
The German and French leaders too appeared to be singing from the same hymn sheet, in coded language.
"I think we found ways where it's true what I have repeatedly said, that the advantages clearly dominate disadvantages. The basic principles which we followed to rescue the euro are there, namely on the one side solidarity among member countries, and on the other side the responsibility of the country where changes need to take place," said German Chancellor Angela Merkel at a press conference.
"An agreement has been found. This agreement is what France was looking for and this agreement has now arrived. It allows Greece to stay in the eurozone and this has been the goal, with the respect of all the European rules," was French President Francois Hollande's reaction.
It has been suggested by some the Greek people have been humiliated and the pressure has mounted on the country's left leaning government. The devil will be in the detail of the agreement.
"So the marathon Brussels summit means Greece won't be forced out of the eurozone. The story has not ended here because there are six EU member states
which will need parliamentary approval for the transfers of the third international assistance programme for Greece," said euronews correspondent Sandor Zsiros.
Follow the live updates on the situation
{{scribblelive}}}