Pagès writes a new page in FMX record books with third X-Fighters crown
Comments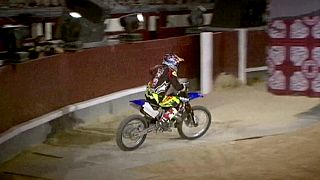 Tom Pagès has carved his name into the record books with his third straight Red Bull X-Fighters victory in Madrid.
I was really stressed trying to make this three times in a row. This place is everything to me.
In front of a sold-out crowd, the flying Frenchman defied the odds and made the impossible possible as the first rider to win the world's most prestigious Freestyle Motocross competition three years in a row.
Pagès got his fifth career win in an unforgettable final over New Zealand's Levi Sherwood. World Tour leader Clinton Moore finished third but still holds the overall lead just ahead of Pagès after three of five stops.
Pagès crowned a dramatic night of FMX heroics with a magical run packed with a run that included four of the most difficult jumps known to man: the Volt, the Special Flip and his signature Alley-oop Flair and Bike Flip.
"It was an insane night but it feels really good," said Pagès. "I was really stressed trying to make this three times in a row. This place is everything to me. I love to win here and I'll be back next year with new tricks."
The next stop of the Red Bull X-Fighters World Tour is in Pretoria, South Africa