Volcanic ash cloud shuts five airports, leaving Bali tourists stranded
Comments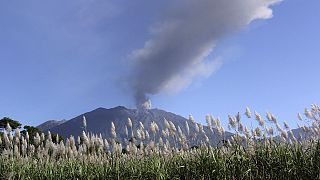 A volcanic eruption has shut five airports in Indonesia, leaving thousands of tourists stranded.
Mount Raung in East Java has been erupting for nearly a week.
The airport on the Indonesian island of Bali – a popular holiday destination for Australians in particular – is among those closed.
Aussies stranded in Bali as ash cloud from volcano descends. http://t.co/XnycZguvj4pic.twitter.com/oNn8cC5wj9

— The Australian (@australian) 10 Juillet 2015
The volcanic ash has affected visibility and also presents a threat to air traffic, as particles in the atmosphere can cause problems for planes.
Indonesia straddles the so-called Pacific Ring of Fire, a highly seismically active zone where different plates on the earth's crust meet and create a large number of volcanoes and earthquakes.