US Women's World Cup winning squad in victory parade in New York
Comments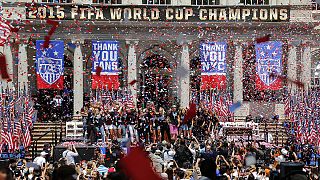 The US Women's World Cup winning football squad was caught in blizzard of confetti in a victory parade through the Big Apple.
The footballers were greeted with chants of U-S-A as they made their way though Manhattan on an open topped bus.
It is the first time a women's sports team has been honoured with a ticker-tape parade.
It ended at City Hall where Mayor Bill de Blasio handed each player a symbolic key to the city.
"When they brought home the trophy they also brought home a message about the power of women," said the Mayor.
The US beat Japan 5-2 in the final last Sunday in Vancouver. It is the third time they have won the trophy.