Life goes on in Athens: locals head to beach to 'regain sense of normality'
Comments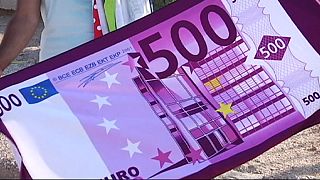 Life's a beach, or at least that's the impression some Athens locals wished to give when euronews went to gauge reactions to the ongoing financial crisis in Greece.
After the initial shock of capital controls being imposed, followed by the referendum on austerity measures, some of the Greeks there said they wished to regain a sense of normality, while negotiations on their country's future are underway.
One man told euronews he'd seen little change and life was continuing as normal.
"I go to work every day. Nothing has changed, not even my salary, thankfully. And whenever I have time, I go to the beach," he said
The long queues seen at ATMs over the past week appeared reduced. One local woman was philosophical about the cash withdrawal restrictions:
"Of course we worry, because we don't have normal access to our money, to pay what we need to. But what else can we do but be calm and wait to see what happens?"
While another man acknowledged: "Things are more complicated for my business. We are still adjusting. We don't know what's going to happen. I believe we'll make it. Either the banks will reopen, or we'll learn to work like this (with the banks closed)."
Marina Alimou was full of boats. At this point in the season, there would usually be fewer vessels in the harbour, as tourists would have rented them out.
However, visitors to the area told us their holidays had not been disrupted.
"We want to be respectful to what's happening right now with the economic crisis. But at the same time, we want to come here, have a good time, spend some money and everything will be good," an Australian tourist said.
Our reporter Nicoleta Drougka summed up the general feeling in the capital.
"The feeling of suspense remains. However, most Greeks try to live their everyday lives normally. They go to work, they enjoy the sun and the sea and they calmly await the outcome," she reported.