Greeks at pro-Europe rally call on Tsipras to keep his promise
Comments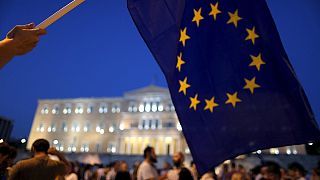 "We live in Europe and this is not negotiable," was the chant of some 5,000 demonstrators in the Greek capital.
Gathered in front of the parliament building in Syntagma Square, they called on Prime Minister Alexis Tsipras to make good on his promise to reach an agreement with Greece's creditors, to enable to country to remain in the euro zone.
Theofanis Malamos was on the rally's organising committee.
"The demo has nothing to do with a 'Yes' or a 'No' vote or the different parties," he said. "We have even called on those people who voted 'No'. Here we all say "we are staying in Europe."
Another man added:
"If the creditors approve the government's proposals, then there will be no danger. But we're still in some doubt about that. That's why we're here."
A fellow protester said:
"The whistle symbolises our need to be on high alert. Greek people should realise what is at stake."
The pro-Europe rally was the first since last Sunday's (July 5) landslide 'No' vote, in which Greeks rejected the creditors' proposals.
New reform plans must be agreed on by a Sunday deadline (July 12), imposed by Greece's international lenders.
Our reporter Konstantinos Tsellos commented on the feeling in Athens.
"The demonstrators claim the coming hours will be crucial for Greece's future in Europe. They are calling on everybody to be alert. Some say they plan to stay in Syntagma Square until the government achieves a viable agreement," he said.