Greek parliament to vote on Tsipras' last-ditch bailout plan
Comments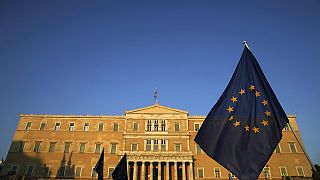 The Greek parliament is to vote on the Syriza government's fresh proposals to creditors to secure another bailout – and avert financial collapse and a messy exit from the eurozone.
Prime Minister Alexis Tsipras met party members on Friday morning to seek backing for the plans – thought to include austerity measures rejected by voters in last weekend's referendum.
Athens has been asked to pass laws on "prior actions" to convince lenders of its intent on implementing reforms.
Some left-wingers in Syriza are thought to be opposed but the plans are expected to get through parliament thanks to support from opposition parties.
The debate followed by a vote of MPs is due to take place later on Friday.
European markets responded positively this morning to the new package – which includes pension reforms and tax rises.
It's thought some debt restructuring will be offered in return.
The proposals are also due to be considered by eurozone finance ministers ahead of a full summit of EU leaders on Sunday.
Eurogroup Chairman Jeroen Djisselbloem has been quoted as saying that a decision on the proposals would probably be made on Friday.
Germany has reportedly said it will suspend judgement on the package of measures, to allow creditors to make their first assessment.
The French economy minister Emmanuel Macron has said he is optimistic that a cash-for-reforms deal can be reached, adding that the question of Greece's debt burden must be addressed.
Tsipras and his cabinet spent Thursday putting the last-ditch cash-for-reforms package together.
Between now and the end of 2016, Greece proposes scrapping tax breaks for its islands and cutting defence spending by 300 million euros. The package would see VAT raised; and early retirement curbed.
In return, Athens is asking for 53.5 billion euros' of funding to cover its loan obligations till the end of 2018.
Eurozone leaders are expected to announce their decision following Sunday's summit.