Nigerian troops arrest alleged mastermind of deadly bombings
Comments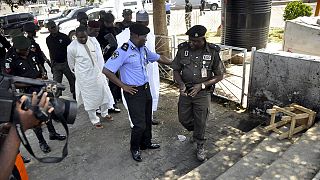 The alleged mastermind behind deadly bombings in central Nigeria has been arrested.
The defence ministry announced that the suspect, behind attacks on Jos and Zaria this week which killed at least 69 people, had been picked up in the northeast city of Gombe, on the fringes of Boko Haram territory.
Though no one claimed responsibility for the attacks they bore the hallmarks of the Islamist sect which has been waging a six-year insurgency in the country.
The arrest came as the government offered to negotiate with Boko Haram, which appears to contradict President Buhari's pledge not to negotiate with terrorists.
Meanwhile Buhari met with campaigners calling for the release of more than 200 schoolgirls kidnapped by the militants. According to Associated Press newsagency they are offering the release of the girls in exchange for the release of militants.