London Tube strike brings chaos to UK capital
Comments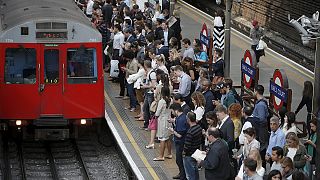 It was a sight to make any London commuter's heart sink – underground stations being closed.
Wednesday evening it was happening across the network as a strike by staff and drivers took hold.
Four unions – the RMT, TSSA, Unite and Aslef – have walked out after talks with management collapsed over pay and new night-time services.
Finn Brennan, ASLEF union lead negotiator explained why the industrial action was necessary:
"The big problem with their proposals is that it doesn't deal with issues of work life balance and antisocial hours working. Our executive committee will now be deciding what are the next steps to take. But really progress is to be made, the company need now to be sensible and sit down with us to find a solution."
The stoppage action is set to bring the entire Tube, as its locally known, to a standstill. London's transport bosses have called it 'irresponsible' and Britain's Prime Minister David Cameron described it as 'unacceptable'.
But its commuters who will bear the brunt of the stoppage.
(Another) #London#tube strike from 6pm tonight..no tubes tomorrow..look forward to your ride home at 5pm this eve.. pic.twitter.com/PcS5jyQOTY

— Louisa Bojesen (@louisabojesen) July 8, 2015
TfL #Tube strike: Walkout confirmed with no service on entire #LondonUndergroundnetwork… http://t.co/IxS0Lz7m0Mpic.twitter.com/HanziVKoab

— Trending UK News (@UKolizer) July 7, 2015
"I'm lucky enough not to live so far from the centre," said one woman, "So I guess I will either manage it actually walking or maybe taking a cab. Of course it's gonna be a kind of a mess !"
One man was worried as he was a newcomer to London: "I don't know this city so I have to figure out how to use the buses."
Not everyone was unsympathetic towards the unions. "Maybe they are right to make a strike but everybody is having a very very difficult time until Friday morning,"said one woman.
More than 1.2 billion passengers use the Tube every years and even a short strike can cause major disruption..
Reporting for euronews in London, correspondent Ali Kheradpir summed up:
"Due to this strike, which is unparalled in the last decade, more than 200 buses have been laid on and extra bicycles will be available for hire as Londoners seek alternative ways to get to work or indeed return home. But all of this won's go any where near compensating for the walkout by 20,000 Tube workers."
What it's all about
The four unions say the dispute with London Underground (LU) is about workers' pay and conditions linked to the new Night Tube service.
The unions have rejected a 2% average pay rise for all Tube employees plus a £2000 one-off bonus for drivers on the five affected lines to compensate them for night working.
The unions say this is unfair compensation for night working which has been linked to poor health.
LU says its "fair and competitive" and they are taking on extra staff to reduce the number of nights each staff member will have to work.