No foul play suspected in NYSE and United Airlines shutdowns
Comments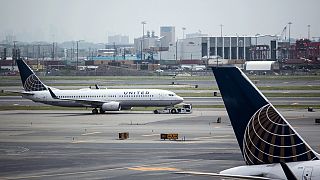 Separate computer glitches on Wednesday shut down the New York stock exchange (NYSE) and grounded all flights operated by US airline United.
The halt in NYSE trading has been described as unprecedented. The Wall Street Journal's website was also affected.
"I have spoken to the CEO of United, Jeff Smisek, myself, "said secretary of the US Department of Homeland Security Jeh Johnson. "It appears from what we know at this stage that malfunctions at United and the stock exchange were not the result of any nefarious actor. We know less about the Wall Street Journal at this point, except that their system is in fact up again, as is the United Airlines system."
New York Stock Exchange stops trading as United Airlines experience tech crash #sci… http://t.co/Pc0O8ePOYRpic.twitter.com/xXe13dfwGU

— josetron (@josetron) July 8, 2015
The White House said US President Barack Obama had been briefed on the matter.
United Airlines said 800 flights had been delayed with around 60 cancelled.