London bombings of 2005 a 'threat we still face'
Comments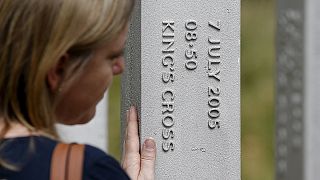 On the morning of 7th July, 10 years ago in London bombs were detonated on a bus and three underground trains.
Britain has been commemorating the 52 people killed in the country's worst terrorist attack.
Four young British Muslims set off rucksacks of explosives on a double-decker in Tavistock Square, and on the Tube, at Russell Square, Edgeware Road and Aldgate.
Prime Minister David Cameron and Mayor of London Boris Johnson laid floral tributes at the 7/7 memorial in Hyde Park.
Cameron said: "It's a day when we recall the incredible resolve and resolution of Londoners and the United Kingdom. A day when we remember the threat that we still face. But above all it's a day when we think about the grace and the dignity of the victims' families, for all they've been through."
More than 700 people were physically injured in the attacks. Gill Hicks was right next to her train bomber. Her legs were amputated below the knees.
Hicks said: "How has the taking of my legs, and more importantly how is the taking of innocent lives, ever going to further anybody's cause? I see no outcome from the terrible tragedy that we saw here in London 10 years ago, and indeed continue to see throughout the world."
Many people rescued from the carnage have suffered long-term psychological damage. And there are the relatives of those who were killed and hurt.
Esther Hyman said: "I heard that there had been an explosion on a bus, and I thought, well, my goodness, if there are explosions on the Underground and then on a bus, who knows where it's going to end. But of course I didn't realise at that time that my sister was actually on that bus."
A special service was held at Saint Paul's Cathedral. First responders and the bus driver carried symbolic candles.