Hungarians helping migrants until fence cuts them off
Comments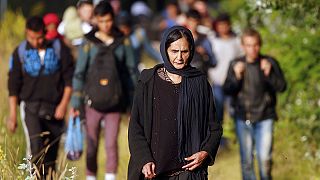 A Muslim at prayer in mostly Orthodox Christian Serbia is a sign of unusual movement through the small town of Magyarkanizsa. This is the last stop for many refugees before they try to enter the EU, crossing over into Hungary.
The owner of a store selling them tents and sleeping bags hears many rumours about them: "The opinions are different," she said. "Some say that the refugees bother them. They are afraid what will happen if all of them are sent back from the EU, that they might go marauding, steal and probably even kill, that there might be terrorists among them. Nobody knows."
The border is nearby. More than 60,000 people have been caught trying to cross illegally this year. Most of them come from Afghanistan, Syria and Iraq. They want to reach Western Europe, or eastern parts, but people like a Syrian we talked to don't want to stay in Hungary.
He said: "I think Hungary is like Greece: no jobs, no help for people. But people need some help for jobs, to study — I think [there's] nothing in Hungary — for that we are going to Germany or the Netherlands, Denmark, Sweden."
Warnings against taking jobs from Hungarians greet new arrivals (if only they could read the billboards in Hungarian) in Szeged, close to the Serbian border.
Migrants are not seen downtown, as they are hiding from the police. Many locals are not happy about them.
An elderly man sitting in a park said: "I think they should live where they were born and the responsibility belongs to the country that made them go away."
A middle-aged woman in an open urban area with many trees said: "It's no bother till they camp in the middle of this square, or if they take local people's jobs. So, there can be disturbing economic and social consequences."
Civil volunteers helping refugees in Szeged think differently. Donations are collected and given to people in need, who spend the night at the railway station, waiting for the first train out.
NGO MigSzol coordinator Márk Zoltán Kékesi said: "A huge proportion of the Hungarian people — I can't guess how many but it is huge — don't think as the government want us to think. We believe that these refugees are having an extremely hard time, and we don't care where they are coming from, where they are going, or what they hope to do at the end of their journey. We can do one thing: make life easier for them while they are here."
They get fed and receive medical help, and information through translators with this civil group.
One migrant waiting to move on said: "Our hearts are happy at times like this. Even if we get only a glass of water, we are treated as human beings."
In spite of many Hungarians' kindness, a few weeks from now, the government will build a fence along the 175km border with Serbia, to stop refugees.