Taiwan defies China with WWII commemoration parade
Comments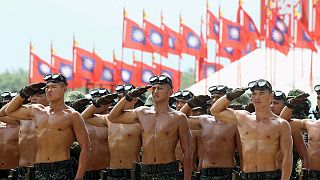 Taiwan has put on a military parade to commemorate 70 years since the defeat of Japan in the Sino-Japanese War.
It was an event designed to highlight an old claim that Taiwan, rather than Chinese Communists, led the campaign that forced Imperial Japan from China,bringing about the end of the Second World War in the region.
Taiwan's Nationalist Party ruled all of China when Japan began its invasion of parts of the country in 1931. It says Communist forces played a minor role in fighting Japanese forces.
However, modern-day China claims the Communists played an integral role in directing the resistance against Japan.
According to Xinhua, China's state news agency, the Beijing government will offer a three-day public holiday in September, 2015. The country's first World War II memorial parade is also expected to be held that month.