Greeks on a knife-edge ahead of referendum
Comments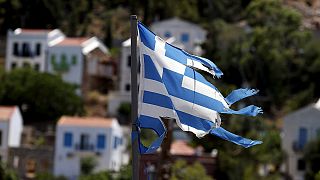 Greeks were given a day of reflection on Saturday ahead of the country's make or break referendum.
But many of the country's 10 million voters were on a knife edge as they decided whether to choose 'yes' for the bailout terms offered by Greece's lenders or 'no' to deepening austerity, even if it meant a possible exit from the eurozone.
Polls for Sunday's vote open at 6am Central European Time and more than 80 percent of voters are expected to turn out. That's higher than the 64 percent who voted in January's general election.
Finance Minister Yanis Varoufakis warned that Europe stood to lose more than Athens from a Grexit.
Brussels had forced Greek leaders to close the banks "to frighten people", he said in an interview with Spain's El Mundo newspaper.
Opinion polls suggest the fear factor may be working. A slight lead for the 'yes' vote has emerged in support of the bailout terms and more austerity.
Most of the country's newspapers have also called for a 'yes' vote.
But pollsters say the edge is still within the margin or error and the vote is still too close to call.
Technically the revised bailout offer that Greeks are voting on is no longer on the table, meaning more negotiations with lenders could be necessary.
So which ever way they vote, Greeks face many more years of hardship.