Uber suspends UberPOP taxi-ordering app in France after violent protests
Comments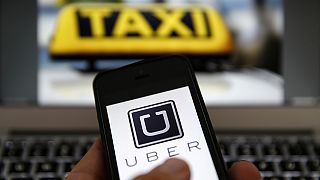 It has revolutionised the way many people book a taxi.
We have decided to suspend UberPOP in France...primarily to assure the safety of Uber drivers
But now Uber has announced the suspension of its budget UberPOP cab-ordering app in France.
The US firm has thrown in the towel, saying this is largely to protect its drivers who have been the victims of violence as licensed taxi drivers vent their anger at what they see as unfair competition.
"We have decided to suspend UberPOP in France from 1800 GMT this Friday evening, primarily to assure the safety of Uber drivers," Uber France head Thibaud Simphal told Le Monde daily, adding that some drivers had been targets of violence.
"The second reason is that we want to create a spirit of reconciliation and dialogue with public authorities to show we are acting responsibly," he said.
UberPOP is suspended in France after clashes with taxi drivers and executive arrests http://t.co/R7GeGgkwKupic.twitter.com/Kk5EQnY7uq

— Bloomberg Business (@business) 3 Juillet 2015
Prime Minister Manuel Valls welcomed the decision but said France's licensed taxis needed to improve the quality of their service, often criticised by locals and foreign visitors.
"Taxis need to reform too, to contribute to our country's attractiveness," he told reporters at an event in eastern France.
Last week protests erupted in numerous French cities, cabbies blocked roads to the capital's airports, overturned cars and burned tyres.
Police said 70 cars were damaged and seven police officials injured in the protests. Ten people were arrested.
UberPOP links drivers of private cars with potential passengers at much cheaper rates than traditional cabs.
Born out of the frustration of two Silicon Valley entrepreneurs trying to catch a cab in Paris, Uber's services have mushroomed since being launched in 2010 and are offered in nearly 270 cities worldwide.
Taxi drivers in France pay income tax and welfare charges and, depending on their location, sometimes have to pay hundreds of thousands of euros for an operating license.
They argue that they face unfair competition from unlicensed drivers who have no such costs and so can undercut them on price. A final ruling on UberPOP's legality in France is due around September.
That is also when two Uber executives face trial in France amid a government crackdown on what it calls an illegal taxi service.
For its part, Uber argues that it is offering a much-needed service that complements licensed taxis and is offering a sideline income for some 10,000 people in France.