Malaysia wants UN-backed tribunal over MH17
Comments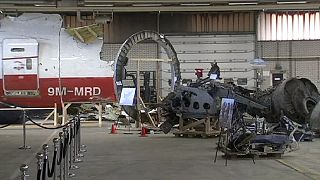 Malaysia is to push for a United Nations-backed tribunal to prosecute those suspected of downing flight MH17 over eastern Ukraine.
UN Security Council President for July Gerard van Bohemen confirmed the intention on Thursday.
The Malaysian Airlines passenger jet was shot down last July with 298 passengers on board. Two-thirds of them were Dutch.
"They are seeking to find a mechanism to deal with criminal accountability in relation to the dowing of the aircraft," van Bohemen added.
It is a joint proposal between Malaysia, Australia, the Netherlands, Belgium and Ukraine.
The West has accused Moscow-backed separatists of shooting down the Boeing 777 with a Russian-made missile.
An international team of investigators is due to release its final report on the crash in October.