Egypt hits back at 'Islamic State' militants in Sinai Peninsula
Comments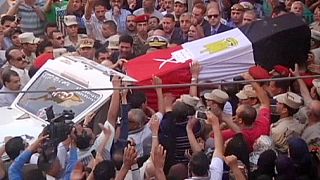 The funeral took place on Thursday for one of 17 Egyptian soldiers killed by Islamist militants in the Sinai Peninsula.
A large crowd gathered for a street procession in Alexandria attended by the local governor.
Dozens of rebels linked to the Islamic State militant group carried out the simultaneous attacks on Wednesday which left more than 100 people dead.
Dozens of civilians caught up in the violence near army checkpoints were treated at local hospitals.
The renewed attacks in Sinai have shaken Egyptian leaders who have vowed to rid the region of militant fighters.
Sinai affairs specialist Mohannad Sabry warned that ISIL in Egypt and its affiliates were gaining strength.
"What happened was a vivid displayed of how these groups plan ahead of time, recruiting and building up their military power," said Sabry.
"This is an unprecedented development that, not only Egypt, but the whole world should look at with the utmost care," he added.
Meanwhile, Egypt's military claimed it killed 35 militants in North Sinai on Thursday.
Backed by aerial support, army forces stormed militant bases south of the town of Sheikh Zuweid, according to security forces.