Tunisia arrests 12 suspected over Sousse beach attack
Comments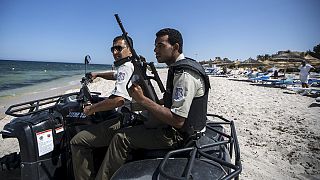 Tunisian authorities have arrested 12 people suspected of links with the beach terror attack in Sousse.
They are continuing the search for two men who trained in a Libyan jihadist camp alongside the Sousse gunman Seifeddine Rezgui and the Bardo Museum attackers.
On Tuesday police released the photos of Rafkhe Talari and Bin Abdallah wanted in connection with the beach massacre.
Thirty-eight tourists, mostly British nationals were killed in the attack. Twenty-two people were killed by two gunmen in the Tunis Bardo Museum attack in March.