Scores dead as Philippines ferry capsizes
Comments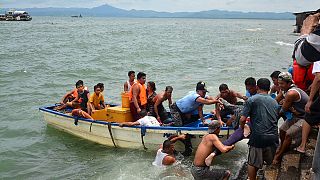 In the Philippines local media captured the desperate scenes of a search and rescue operation after a ferry capsized.
Survivors spoke of having to swim from underneath the upturned boat to get to shore, while seven rescue boats managed to pick up the remaining passengers.
At least 36 people have died, while the coastguard reported 127 had been rescued and 26 remain unaccounted for.
The boat carrying 189 passengers overturned suddenly minutes after leaving the port of Ormoc.
Authorities are still investigating the possible causes for the accident, including human error and bad weather.
Initial reports suggested big waves could have been behind the accident, while one witness saw the boat make a sharp turn just before it capsized.
The country, comprising more than 7,000 islands has a notoriously poor maritime safety record, with scores of people dying each year in ferry accidents.