Girl in US confronts anti-gay protestor and inspires thousands
Comments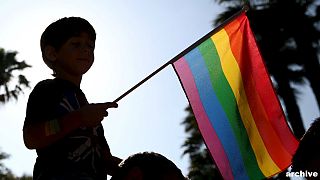 A simple anti-hate gesture of a young Ohio girl has touched the gay and lesbian community and beyond.
Passersby were passionately on her side...
Wearing a tie-dye skirt and holding a rainbow flag, seven-year-old Zea Bowling held her ground at a community festival when an anti-gay protestor yelled at her.
Various crowd members gave Zea high-fives as she stared at a man holding a 'Jesus Saves from Hell' banner while he preached to her, "This world will give you heartache…and pain."
Her father, Ryan Bowling, who captured the incident on his phone, said he had only told her the day before about the US Supreme Court decision to legalise gay marriage.
Mr Bowling was quoted as saying, "Zea was said to be shocked as to why a man at a festival would be so mean."
He noted that passersby were "passionately on her side, right away…People actually cried. I almost didn't film it. It was pretty powerful."
An image of the first-grader holding the flag has even been emlazoned on a T-shirt, the proceeds of which will go to her family and a local gay and lesbian charity. The shirt, which has words from the 14th Amendment in behind the girl, will go on sale July 13.
On June 26 the Supreme Court historically made gay marriage legal nation-wide in America.