Billionaire Saudi prince pledges entire personal wealth to charity
Comments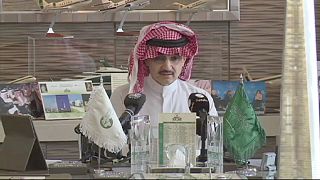 A billionaire Saudi prince says he will donate his entire wealth to charity over the coming years.
Prince Alwaleed bin Talal told a news conference in Riyadh he wants to support charities including some that promote cultural understanding and disaster relief to the tune of 28-billion euros. One of his top priorities is to empower women.
A tweet announcing his intention explained that God gave him a lot of things and he wanted to pass on this generosity to other people.
The 60-year-old nephew of King Salman said he was inspired by the Gates Foundation set up by Bill and Melinda Gates.
Bill Gates was inspired by the announcement. He tweeted that it was an admirable milestone.
An admirable milestone! Alwaleed_Talal</a> inspires with a pledge to donate all of his wealth: <a href="http://t.co/PJMBC5GbLX">http://t.co/PJMBC5GbLX</a></p>&mdash; Bill Gates (BillGates) July 1, 2015