Heavy rains cause widespread flooding in Costa Rica
Comments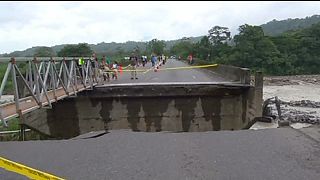 Severe flooding due to heavy rain has caused widespread damage to roads and homes in Costa Rica.
Landslides have collapsed bridges interrupted communications and forced more than 1500 people to seek alternative accommodation.
Emergency shelters have been set up offering help to the flood victims.
The Panamanian government has provided a helicopter to support search and rescue operations in flooded parts of Costa Rica's Caribbean coast line.
The president of Costa Rica, Luis Guillermo Solis has declared an emergency as heavy rainfall continues to flood the entire province of Limon and the cantons of Turrialba and Sarapiqui.
RT: Costa Rica Floods – Hundreds Evacuated, 25 Communities Isolated: Costa Rica's National… http://t.co/6uJIn6DAAbpic.twitter.com/JjiCl343VM

— globalfloods (@globalfloods_eu) June 24, 2015