Greeks rush to withdraw cash ahead of week-long bank closures
Comments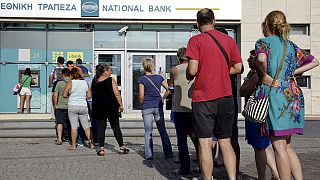 Greece's banks will be closed today until July 6 along with the stock market and there is to be a 60 euro daily limit on cash withdrawals.
The measures were announced as the government moved to protect its crippled financial system following the European Central bank's decision to freeze vital funding.
The collapse of bailout talks with its creditors leaves Greece set to default on 1.6 billion euros of International Monetary Fund loans that fall due on Tuesday. Athens must also repay billions of euros to the European Central Bank.. The situation makes the prospect of Greece being forced to exit the eurozone a likely outcome.
Prime Minister Alexis Tsipras has called for calm and promised bank deposits are safe and that salaries will be paid, but even as he spoke queues were forming at petrol stations and at cash machines.
The cabinet held a crisis meeting but emerged determined to seek a public vote on what it says are humiliating terms for more funding.
"It is clear that our lenders are putting even more pressure on us trying to cancel the referendum or trying in the worst case scenario for them to influence the outcome. That is why I am saying that – against this blackmail – we should remain calm and watch out for our best interests," said Deputy Minister of Administration, Georgios Katrougalos.
Reporting for euronews in Athens Symela Touchtidou said that after the six hour cabinet meeting, the Greek government declared that it is determined to move on with the referendum of Sunday, even with the banks closed.