Greeks protest over lender austerity demands
Comments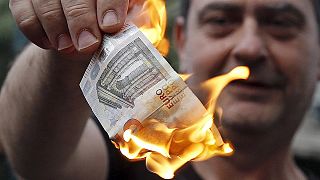 Thousands have taken part in rallies in central Athens following the government's announcement that it's closing the banks and imposing capital controls.
Some banners conveyed a defiant call to leave the eurozone.
"Now it's our time to say no because they (the creditors) want the whole (of) our land. They want our freedom, they want our rights, they want our properties, they want our homeland. I think the Greek people will fight back," said one demonstrator.
While another was more critical of the government:
"Since the government chose to move within the EU framework and sit at the same table with the creditors and adopt such a direction, there was no possibility that a programme or an agreement that would meet the demands of the people could ever come out of this."
LIVE: Thousands gather outside Greek parliament in Athens to protest against austerity http://t.co/ps8fPLKlsepic.twitter.com/dZlvQJMoHP

— RT (@RT_com) June 21, 2015
Creditors want Greece to cut pensions and raise taxes in ways that Prime Minister Tsipras complains will stifle any hope of growth.
With Greece facing the prospect of defaulting on repayment of IMF loans on Tuesday it means the next few days present a major challenge to the eurozone project and the consequences for markets and the wider financial system are unclear.