Kuwait: national day of mourning after Friday mosque attack
Comments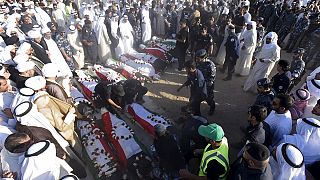 A national day of mourning is being observed in Kuwait, as the funerals take place of 27 people who died in Friday's suicide attack on a mosque.
The authorities say they have detained the driver of the vehicle that took the bomber to the Shi'ite Muslim mosque in Kuwait City.
Kuwait arrests driver of bomber in Islamic State mosque attack http://t.co/lD5EOtRvgZ

— Agence France-Presse (@AFP) 28 Juin 2015
The man fled the scene directly after the attack.
2,000 people were praying at the Imam al-Sadeq mosque on Friday when the bomber struck. The group calling itself Islamic State says it was behind the attack.
Officials think the aim was to stir enmity between majority Sunnis and minority Shi'ites, and disturb the  harmonious relations between the sects in Kuwait.