All female Team SCA prove their worth at close of Volvo Ocean Race
Comments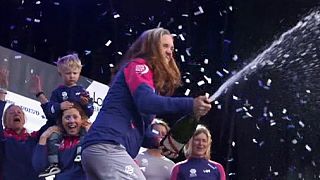 Among those crossing the finish line of the nine-month, round-the-world (RTW) Volvo Ocean Race, are the first all female team in 12 years.
Team SCA , the only female crew ever to have won a "leg", have been pushing the boundaries for women's sailing and proved they were tough enough to endure the harsh conditions.
Carolijn Brouwer is the Team SCA Driver/Trimmer, she said:
"You don't have any privacy, you don't have any shower. You got very little rest. If you got 6 hours of sleep per 24 hours you have done very very well. And that's an interrupted sleep because you get two hours at the time, because of our watch system. So, the hardest thing living on board is a sleep deprivation."
They compete on an equal level with male competitors, in the same boats 24/7 for weeks at a time.
"Yes, there is a future for women in sailing," Brouwer says. "And we noticed it when were racing against the other boats against the guys we are saying as honest and real competitors and we are not seeing as "oh, there is girls' boat". No, "there goes Team SCA". Because we as much competetion for them as the others boats are. So there is a mutual respect. And that' show we want to be treated."
There were more than 250 applicants to join the 15 person crew. Aged between 28 – 42 the final team was made up of members from six nations: the US, UK, Switzerland, Australia, Sweden and the Netherlands.
First and foremost they are competing to win, but a strong secondary aim is to change peoples opinions around the world.
Richard Brisius is the Team SCA Managing Director
"The crew of the boat they will go around the world like evangelists," he said. "And like the best offshore sailors of the world and keep promoting women's sailing and I hope that I'm a small part of that in the future.
After covering around 39,000 nautical miles and enduring nine months of one of the toughest endurance tests with no Fresh food; next on the cards is a good meal and a good nights sleep.