Tunisia beach attacks: Death toll rises to 37
Comments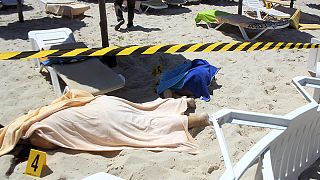 Terror arrived at a Tunisian beach resort on Friday when at least 37 people were killed in a mass shooting by suspected Islamist militants.
Dozens more were wounded when at least one attacker struck at a packed beach and five star hotel at the popular Sousse resort.
Officials said the dead included British, German, Belgian and Irish tourists as well as Tunisians.
Sousse is one of Tunisia's most visited beach destinations, drawing around 1.2 million tourists every year.
Authorities said the attacker posed as a beach-goer, wearing shorts and hiding his Kalashnikov under an umbrella. He was later shot dead by security forces.
There were unconfirmed reports of a second gunman.
Witnesses told how their peaceful holiday suddenly turned into carnage. Some described how terrified sunbathers started running from the beach after hearing the sudden sound of gunfire.
One Tunisian eyewitness described the pandemonium: "I heard the sound of shooting coming from the beach , then I saw a man shooting at tourists and running towards the swimming pool. Tourists panicked and tried to escape and then he threw a grenade at them. I saw a man killed in the explosion and I think a woman beside him was seriously injured."
Guests at the 5 star Imperial Marhaba Hotel were told to lock themselves in their rooms to escape the shootings.
Owners Riu Hotels have confirmed that 565 guests were staying at the resort when it was attacked.
Within a few hours, Tunisia's president Beji Caid Essebsi visited the site of the shootings.
No group has claimed responsibility but Islamic State militants warned a few days ago of "calamity" for non-believers during Ramadan.
The country is still reeling from a similar attack on a Tunis museum in March which left more than 20 people dead.
The impact on tourism was immediate as several tourist operators warned of postponed bookings and chartered flights to Tunisia were cancelled.